Shari Hatt
Karl McDade
Karl McDade
Earnest Merritt
Earnest Merritt
Monica Van den Dool
Monica Van den Dool
Sheila Pinkel
Max Schumann
Max Schumann
Max Schumann
Lida Abdul
Lida Abdul
Lida Abdul
Yoko Ono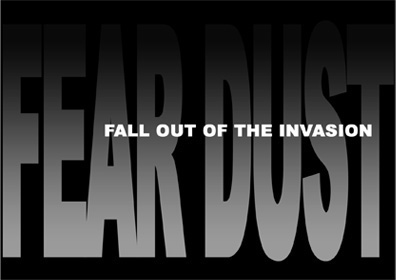 FEAR DUST: FALLOUT OF THE INVASION
MARCH 19-APRIL 16, 2005
On March 19, 2005, in observance of the second anniversary of the war in Iraq, Track 16 Gallery will present a group exhibition, "Fear Dust: Fallout of the Invasion." Artists included are, Lida Abdul, Shari Hatt, Karl McDade, Earnest Merritt, Yoko Ono, Sheila Pinkel, Max Schumann, Monica Van den Dool, and Jonathan Hollingsworth. The exhibition will run from March 19, 2005 through April 16, 2005, with an opening reception on March 19 from 6 to 9 P.M.
The work selected for this exhibition in both sublime and literal fashions, reveal the artists unique commentaries on the current political ambiance. As Katha Pollitt describes succinctly in a column for The Nation, it seems that our country has been sprinkled with "fear dust," specifically, the media being afraid of appearing "too liberal," and intellectuals fearing being called "anti-American."
A native of Kabul, Afghanistan, multi-media artist, Lida Abdul lived in Germany and India as a refugee before coming to the U.S. As an artist who takes inspiration both from the numerous histories of art and the continual unraveling of identities and ideas in the global world, her work performs the sometimes surreal logic and aesthetic of memory and mourning. Her recent work in Afghanistan explores the post-conflict realities which get ignored in the so-called "redevelopment projects" currently underway. Some points she addresses are: How does one rehabilitate a cultural and aesthetic tradition, every previous aspect of which has been systematically destroyed? How does one maintain the heterogeneity of influences (Islamic, Buddhist, Animist) whose unique representation existed in pre-war Afghan culture? She has exhibited her work both in the U.S. and abroad, and has been featured in festivals in Mexico, Spain, Germany, London, Afghanistan, Uzbekistan, Kyrgyzstan, and Japan.
For this exhibition, Shari Hatt presents a particularly relevant photograph: a man proudly (yet uncomfortably) holding up his kill, a dead American Eagle. The image immediately questions the relationship of power between our species and others. It also addresses the "search and destroy" motivation of a predator as it relates to an invasion or occupation. This piece comes from Hatt's archive of found photographs, part of an ongoing project in which she explores the construction of the "masculine" through examining male bonding rituals, particularly sport hunting.
Karl McDade's work for this exhibition is sculpture with a strong base in pottery making. He uses the vessel form as the primary subject as related to vessel-like forms of weaponry such as bombs and torpedoes. This work is a comment on the enormous amount of time, money, energy, and ingenuity required to create things specifically designed to kill people.
A scion of the Bread and Puppet legacy, and progenitor of the often bastardized but never equaled Cheap Art movement, New York City resident and Printed Matter bookstore manager, Max Schumann makes daring, political, funny, poignant, realist paintings primarily on cardboard. For this exhibition, Max Schumann will cull appropriate material from his prodigious amount of work.
Earnest Merritt's delicate yet poignant collage landscape installation speaks powerfully with its subtlety. Merritt creates a space that is peaceful, beautiful and inviting, yet upon close inspection, devastating.
One of the founding member of the Fluxus group, artist Yoko Ono has also historically engaged in peace protests in the1960s and 1970s such as Bed-In For Peace against the Vietnam War, her collaboration with John Lennon, a billboard in London's Piccadilly Circus, which read: "WAR IS OVER! If you want it," and most recently, full-page advertisements in news papers around the world on the eve of the war in Iraq saying: "Imagine Peace...Spring 2003," which also appeared at Track 16 Gallery during the "Anti-War Show," in 2003. For this exhibition, Ono's "Imagine Peace..." (2004) will once again challenge the spectator/participant to take action to circulate and spread the message of peace.
Sheila Pinkel has been working with a variety of electronic and digital imaging systems since the mid 1970s and is particularly well-known for her installation "Thermonuclear Gardens," which she made as a means of confronting the threat of nuclear war. Her piece for this exhibition, "Fear is our Gross National Product," is a strong commentary on the current situation.
For this exhibition, Monica Van den Dool explores the separation between the irrational/subconscious and rational/conscious mind. More specifically, transforming the "the generic army man," a toy that children play with to act out war scenarios (inevitably involving death and killing), into renditions they remove the normally death-dealing poses and replace them with more benign and pleasant activities.
Photographer Jonathan Hollingsworth contributes a window installation to the exhibition. This piece documents young people's opinion of the war, using a style riding the fine line between portrait and mug shot.
INVASION ANNIVERSARY SPECIAL EVENT! SALOOT TO LOOTING
To commemorate the second anniversary of the looting of the Iraqi Art Museums, we invite the public to help themselves to any and all unguarded treasures in our INSTALLATION SPACE (a portion of our gallery) on Sunday, March 20 from 8 to high noon. Two items per person. Staff on duty to prevent fist fights.
visit LA City Beat's article on Fear Dust
http://lacitybeat.com/article.php?id=1812&IssueNum=93